Does your dog think "Come" means run away as fast as you can?
Is digging under the fence the only trick he knows?
Are you ready for Professional Dog Training help and
live in Connecticut?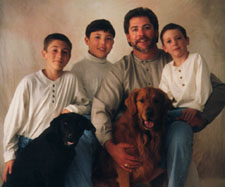 Hi, my name is Scott and I have been training dogs and educating owners successfully for 25 years. As a Certified Master Dog Trainer and Canine Behaviorist, living in Western Connecticut, I really enjoy helping you and your dog achieve all of your goals!! With over 1400 dogs trained in the last decade there are no problems I cannot fix or behavior I cannot change. Please read
What Humans Are Saying
about our work with their Rover Achievers.
I am highly experienced with canine behavior issues and I will work privately with you and your dog. Together we will see the guaranteed success, using humane and consistent training techniques that work through praise and positive reinforcement.
I am also a certified First Aid and CPR (for dogs) I'm available to give seminars on that and other dog gone topics such as Aggression, Puppy rearing and early socialization. I have been featured on T V, Radio and print medias. I have trained Police K-9 units, worked with Search and Rescue teams. I have trained dogs for and competed in Schutzhund (obedience, tracking and protection) and the National Association of Protection Dogs.
Call or
email me
with your specific concerns.
Also view our
Dog Training Programs & Services
and see how we can meet your overall needs.
For Dog Training In The Connecticut Counties of Litchfield, Fairfield and New Haven - Call (860) 752-5613
Rover Achievers
is ready to provide you and your canine companion with the best dog training at a reasonable price, and with personal service that is tailored for your time and individual needs.